Personal Finance for People in Tech is Now Available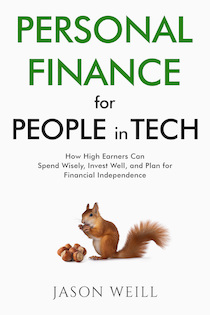 I've published my first book! Personal Finance for People in Tech: How High Earners Can Spend Wisely, Invest Well, and Plan for Financial Independence is now available on the Kindle Store.
I've been interested in personal finance for most of my life, to the point that one of my high school teachers mocked me in class for being interested in the stock market. As a tech employee, I came out of college having learned how to prove logical theorems but without any idea about how stock options work or what an RSU is. I've had some very fruitful conversations with my coworkers about finance topics, although sometimes finance gets treated like politics or religion: a topic that some people don't like to discuss in polite company.
After having a lot of discussions over lunch and over Slack, I decided that I knew a fair bit about personal finance topics of interest to people in the tech industry, and so an idea was born. Shortly after leaving my last job, and reading Your Money or Your Life by Vicki Robin, I was motivated to write and publish a personal finance book of my own. I sat down with a copy of Visual Studio Code and just started writing in Markdown. After writing, and writing, and editing, and creating some diagrams, and writing some more, and sending a draft manuscript around, and commissioning a cover, my first ever book is now available. I hope you like it.
My book is targeted to high-earning people in the U.S. Not everyone working in tech is a high earner and not everyone making a high income is in tech, but I wrote about what I know, and I hope folks can benefit from it. My book covers topics including:
Investing your money for retirement (401(k), IRA, and HSA accounts) and day-to-day needs
Saving your money and taking control of your spending
Understanding employer benefits including RSUs and Employee Stock Purchase Plans (ESPP)
Real estate, including what you need to know about buying a home and refinancing a mortgage
Alternative investments like cryptocurrency, NFTs, precious metals like gold, and equity crowdfunding
Understanding your decisions' impact on your taxes
Hiring professionals to help you with your finances
Finding your first and your next job and making an orderly
The financial independence / retire early (FIRE) movement
More information about the book, including links to further reading and additional resources, is at its dedicated web site: https://www.personalfinancefortech.com.
As an Amazon Associate I earn from qualifying purchases. I get commissions for purchases made through links in this post.